Mark Potter
Posts by Mark Potter
Bentley has announced they will produce the Continental Supersports in a convertible body, and adoption of their flexfuel technology across the Continental range of cars.
From the release:
"The Continental Supersports Convertible further strengthens Bentley's supercar range, following the introduction of the Continental Supersports Coupé in 2009. The new Supersports Convertible, with the same 630PS (621bhp/463kW) twin-turbocharged W12 engine, is the fastest, most potent drop‑top Bentley has ever built, offering the ultimate Bentley driving experience in the world's most dramatic convertible."
"All models in the Continental model range, including the new Supersports Convertible are now capable of running on both petrol (gasoline) and E85 bioethanol or any combination of the two, reaffirming Bentley's ongoing commitment to make all its cars bio-fuel compatible by 2012. Pioneered by the Supersports Coupe, this FlexFuel technology offers a reduction of up to 70 per cent in CO2 emissions on a 'well-to-wheel' basis, a measure of a fuel's net contribution to the atmosphere, not just tailpipe emissions."
source: Bentley Press Release
Evo magazine has posted a brief road test review of the 2010 GranTurismo Convertible – I suspect this is a teaser for an upcoming article, but they did give it 4.5 out of 5 stars.
From the article: "What's it like to drive? As good as Maserati claims; accurate steering, responsive, poised handling, fine ride. With the roof up, you really could believe you were driving the coupe. 
The engine isn't over-endowed with torque but there's enough, and the noise the V8 makes in 'Sport' mode is glorious."
source: evo
The introduction of the GranCabrio – the Trident's third prong – completes Maserati's product line-up that now consists of three different families of models: Quattroporte, GranTurismo, GranCabrio.
The GranCabrio represents the very essence of Maserati in terms of open-top cars. It's a Maserati in the purest sense of the word: from the unmistakable style by Pininfarina to the spacious interior, from the craftsmanship of each detail to the driving pleasure and performance. The Maserati GranCabrio enriches all five senses in a shared open-air experience, without sacrificing comfort and performance. A dream car designed and built for men and women who love to live life in an understated – though sophisticated – manner. Like all the made in Maserati open-top convertibles: special cars aimed at refined connoisseurs.

We are pleased to announce our 6th consecutive year of participation and sponsorship of the annual Wheels of Italy car show. This is the premier Italian car show in the upper Midwest, drawing well over 250 Italian cars, motorcycles, and scooters to the shores of Lake Calhoun, in Minneapolis.
This show is 100% free to show or attend – if you like cars even a little bit – you owe it to yourself to come down and check out this show.
August 23rd 2009, from 10:00 a.m. – 4:00 p.m. No pre-registration required – but spots are strictly first-come first-served. Map to the Lake Calhoun Executive Center, 3033 Excelsior Blvd, Minneapolis, MN.
View Larger Map
Well, after some time off, Matt Desmond has returned to shoot the videos for Cars & Cafe. If you've seen any of his videos, you know they are top-notch, and really set our C&C event apart from anything else being done.
Remember you can pickup a copy of the 2008 Cars & Cafe videos in full HD quality, hifi sound quality, and some special bonus materials over at Matt Desmond's site: www.middlepathproductions.com.
Copyright 2008, Maserati of Minneapolis. A division of the Morrie's Automotive Group. http://www.maseratiofminneapolis.com
Cars & Cafe 2009 promises to be even bigger than 2008. By the end of the year we had over 300 cars in attendance, and even more spectators. This year is still being graciously hosted by the AutoMotorPlex Minneaplis until we outgrow their spacious campus.
Here's video from October 2008, the final event of last year:
And here's a map to the AutoMotorPlex Minneapolis:
The event is from 8am – 11am, and is always free – even the coffee!
E-mail mark (dot) potter (at) morries.com if you'd like to join my events mailing list – including Cars & Cafe updates, invitations to our F1 parties, car shows, and other events.
Copyright 2008, Maserati of Minneapolis. A division of the Morrie's Automotive Group. http://www.maseratiofminneapolis.com
Matt Desmond has finally released the DVD for the 2008 Minneapolis Cars & Cafe season. These are the videos that were posted to YouTube & Vimeo, in their full-screen, unsuperdupercompressed video and audio presentations.
There is also a special surprise if you click the image of our dealership in the bonus materials section.
Pick up your limited edition copy here: http://www.middlepathproductions.com
The next Cars & Cafe is April 4th, 2009!
Copyright 2008, Maserati of Minneapolis. A division of the Morrie's Automotive Group. http://www.maseratiofminneapolis.com

The 2009 Formula 1 season promises to be an interesting season, no matter who your favorite team is, or what you think of the new rule changes… From the interesting new wings, a return to slicks, the implementation of the Kinetic Energy Recovery Systems (KERS), and the absence of Honda….. well, at least it won't be dull? Here's a video Marty shared, from team Red Bull that highlights the rule changes for 2009:
Here's a video the Williams team made explaining their KERS system:
And this video shows us that carbon fiber does indeed conduct electricity:
Let's hope that isn't a theme this year…
Here is the full list of events this year: (not taking into account tape delayed races)
29 March – Formula 1 2009 season premier (Australian GP) 12(Midnight)-3am.
19 April – Formula 1 round three (Chinese GP) 1:30-4am.
26 April – Formula 1 round four (Bahrain GP) 6:15-9am.
10 May – Formula 1 round five (Spanish GP) 6:15-9am.
24 May – Formula 1 round six (Monaco GP) 6:15-9am.
7 June – Formula 1 round seven (Turkish GP) 6:15-9am.
21 June – Formula 1 round eight (British GP) 6:15-9am.
12 July – Formula 1 round nine (German GP) 6:15-9am.
26 July – Formula 1 round ten (Hungarian GP) 6:15-9am.
23 August – Formula 1 round eleven (European GP) 6:15-9am.
30 August – Formula 1 round twelve (Belgian GP) 6:15-9am.
13 September – Formula 1 round thirteen (Italian GP) 6:15-9am.
27 September – Formula 1 round fourteen (Singapore GP) 6:15-9am.
4 October – Formula 1 round fifteen (Japanese GP) 11:15pm-2am.
18 October – Formula 1 round sixteen (Brazilian GP) 10:15am-1pm.
1 November – Formula 1 round seventeen – the final race of the season (Abu Dhabi GP – Inaugural Race) 5:15-8am.
I have loaded all of these dates, as well as additional events into my public calendar, accessible on the right side of this blog, or by susbcription by clicking here. (link in the bottom right corner)
As always I will send out an e-mail with details before each race, so if you aren't seeing them, or would like to subscribe, send me an e-mail (mark.potter[at]morries.com).
Copyright 2008, Maserati of Minneapolis. A division of the Morrie's Automotive Group. http://www.maseratiofminneapolis.com
USA Today had a great review of the Maserati GranTurismo recently, here are some excerpts: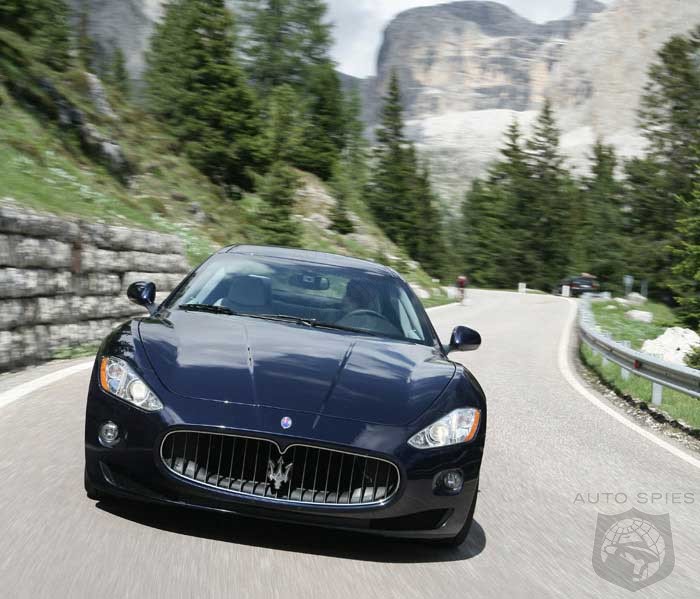 If you can talk about the Maserati Gran Turismo high-performance coupe for more than two minutes without using a naughty innuendo, you should get a prize. We'll try to remain prizeless.Just looking at the $121,000 GT is enough to make you vibrate, so you can imagine what happens when you actually drive it.
You lean into the throttle coaxing the Maserati-designed, Ferrari-built, 4.2-liter V-8 into delivering as much power and speed as your lawyer and bank account can handle. And you wonder: If this is a car, what are all those frumpy lumps of metal getting in your way? Or, if those are cars, what on earth is the GT? Because it's sure not like those.
Read the full article here: USA Today